A (free) online thrift store?!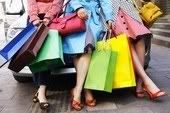 Hello everyone! I hope everyone had a great holiday!
Its true folks. My love of thrift store/vintage shopping has landed me some great finds today. 2 hours sifting through racks a royal blue Perry Ellis pea coat..for $8. Although it may need some hardcore tailoring, i do believe its work the investment!
However! I know some are not willing to spend 2 hours sifting through racks of used clothing.. and recently I've stumbled upon a few websites that the faint-of-heart thrifters might have a reason to rejoice.
www.Makupally.com (primarily for makeup/skincare products) and www.swapstyle.com (primarily for clothing/accessories) are two great sites that let you post your stuff that you want to get rid of and actually schedule a 'swap' for someone else's unwanted goodies that they have posted… then the two parties just mail each other the items! Only costing you the price of shipping!
Have a happy new year everyone!
-Olivia Ludington