moreTrees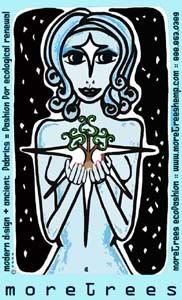 Trees provide the earth and humans with oxygen to breathe. Recreating an economy based on hemp and other bio-resources will end our dependence on timber and synthetics. Save our planet from more devastation by supporting sustainable industries.
Pulp Hemp, Not Trees.
moreTrees produces urban streetwear using blends of organic cotton, hemp and recycled p.e.t. (plastic soda bottles)…! to create urban fashions for kids who are sick of wearing either potato sacks or unethical and poisonious clothes.
Their production company hosts tree give-aways, guerilla gardening demos and videos about greening our urban environments. The clothing line features graphics of the same spirit, along with
superior tailoring for the most flattering fit, so you'll be looking fine while supporting the cause.
moreTrees will be making its way to Aussie stores soon. Check it at www.moretreeshemp.com.