Perhaps it is a confidence issue?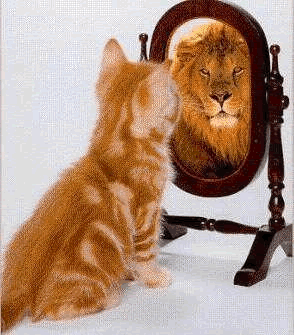 There is a little back story to the one I'm about to tell. I am studying a journalism diploma in Brisbane, which is an amazing, fast tracked, 10 month, in-the-field course. However, I am desperately struggling with such a fast-paced news environment and to be honest, it's sending me a little crazy.
On top of that, there is the travel to and from the city everyday on crowded public transport with grizzly, tired and quite boring people. There is also the fact that while I'm out travelling for three and a half hours everyday, and my husband is working full time and studying his own diploma, nothing around our home gets done. We eat sloppily, things are messy and our dearest cat spends many of her mornings cooped up inside instead of eating grass in the beautiful winter sun (we only let her outside when we're home, after a very scary incident when we let her out and left the house… another story!)
It is, of course, a life that is not uncommon. I know many people that work their little bottoms off through long hours, fast food meals and not as much quality time with family and friends as they may like. but to me, it's not something that I'm wanting to do. I cringe to think that I might spend all that 'wasted' time doing something that I cannot love and missing out on things I do.
So I said to my teacher "I'm really struggling with [insert long list here], journalism isn't for me. I'm dropping out".
And he said, "We can't have that".
…
Deary me! For a starters, what a shock to have a teacher that will be helping me through my challenges. Secondly, I honestly am freaking out about the world I'm entering into.
So there I am, still plodding away at trying to get this work done after I've been informed I'm not allowed to quit, when I get a message from one of my peers informing me that our teacher had told the class of my rejected decision and that perhaps I needed some pep talks. He had told my class that perhaps I have a confidence problem.
Now, this is a shock! Me, confidence problem? I don't think so! Although slightly erratic, I know who I am. I am quiet, but I don't let people walk over me. I can usually get the job done and I have a bunch of experiences that have filled my every day with new perspectives on this world we live in. But as the idea mellows in my mind, I wonder if perhaps he's onto something…
I sometimes find myself in situations with others around me, that I find quite obvious or easy to get out of. Now I am not really a group work person. When I'm in a large group of people, I very much tend to hang out quietly by myself until the session is over and I can do my 'own thang'.  However I find myself helping others to find what they need, not because I know more then them, but I know what to do if I don't know. It usually seems obvious to me. I feel like this is rude to think, but it gives me an inkling that perhaps I do have a confidence problem. Here I am thinking that I can't do it (though a lot of it is motivated by not wanting to) when in fact, perhaps, maybe I can.
What else am I limiting myself from by thinking that I can't do it? We all know that it's a bad attitude to say that 'I can't do it', but how often can we embody a positive attitude in everyday life? If anyone out there is like me, you'll know that on some days, it can even be a struggle to get out of bed, let alone to jump out with an ever-lasting supply of 'can-do' energy.
I'm left thinking, what do I do?
I have to admit that I've only recently gotten myself out of a phase of aiming to be like other people, so perhaps attaching myself to an inspirational figure isn't the best way to go.
So I'd like to put it out to our lip readers, what do you do to boost your confidence and ground yourself to the true capabilities that you possess, rather then getting caught up in a busy world of other people's success?
Sincerely,
Siobhan.